The webcam streaming is very laggy. Why is that?
A laggy webcam stream usually means that you only get the 1-frame-per-10-seconds basic streaming, not the 25 fps premium streaming.
If you have a Free account

Webcam streaming for Free account is up to 1 frame per 10 seconds. Also the streaming stops when the printer is not printing. If the streaming is significantly slower than that frame rate, please submit a bug report.
If you have a Pro account or are in the free-trial period

There are several reasons why you may be getting laggy webcam streaming even if you have upgraded to the Pro plan.
1. OctoPrint has NOT been restarted.

This is the most common cause of not getting premium webcam streaming right after you upgrade to Pro. This is also the easiest to solve.

Sometimes restarting OctoPrint is not enough. Try to reboot your Raspberry Pi in that case. If even that fails, try to unplug Raspberry Pi's power supply, wait for 30 seconds, and plug it back in.
2. You are not using a Raspberry Pi.

Premium video streaming requires Raspberry Pi to work. It is well tested on Raspberry Pi 4B, Raspberry Pi 3B/3B+, and Zero/Zero W.
3. The browser is acting up

Under the hood TSD uses H.265 over WebRTC to stream the video. That's why it can stream at such a high frame rate without overloading the weak CPU in Raspberry Pi.

However, because this streaming protocol is quite new, the support in different browsers can be iffy. Follow the steps below to figure out if the browser is causing the issue.
3.1. If you are on a laptop/desktop computer:
On a computer, Firefox works better than Chrome. If you are using Chrome on a computer and the webcam feed is laggy, try Firefox.
If you are stuck with Chrome, you may want to try one of the workarounds to make it less annoying.
3.2. If you are on an Android phone or tablet:
If your phones can't be upgraded to Android 8.0, you are probably out of luck. :(
If your phone runs Android 8.0 and above, Chrome is your best bet. Try it first.
If Chrome doesn't work, try these steps to get Firefox to work.
Some users have had luck with a browser called "Super Fast Browser". Give it a shot as your last resort.
To check if this is the cause of the laggy streaming, try to load the page on a computer. If you are getting a smooth 25 fps video stream on your computer but not your phone, your phone unfortunately doesn't support the streaming protocol.
3.3. When you are on an iPhone/iPad:
iPhone/iPad has solid support for 25 fps premium streaming. Either Safari or Chrome works well.
4. The Raspberry Pi doesn't have solid internet connection

The most common connection problem TSD users run into is: the Raspberry Pi is located too far from the Wifi router to have a solid internet connection.

To check if this is the case for you, you can temporarily move Raspberry Pi closer to Wifi router to see if the webcam stream becomes smoother.

The best option to give Raspberry Pi a solid connection is to connect it through an ethernet cable.

Also, if you are using regular Cat5 cable for your Pi, or between your modem and Wifi router, it could be the bottle neck. Swap it to a Cat5e cable to see if it makes a difference (Pro tip from Aaron).
5. You did not install OctoPrint from an OctoPi image, or your OctoPi version is too old.

We strongly recommend you to flash your Pi with the official OctoPi image. Premium webcam streaming may not work if you flashed your Pi with:
a Raspbian image and custom-installed OctoPrint;
an OctoPi version that is older than 0.15.0;
an OctoPi release candidate (RC) version;
or an OctoPi pre-release version.
6. You have disabled premium webcam streaming

Go to "OctoPrint Settings" -> "Access Anywhere - The Spaghetti Detective" -> "Settings", and make sure "Disable premium webcam streaming" is unchecked.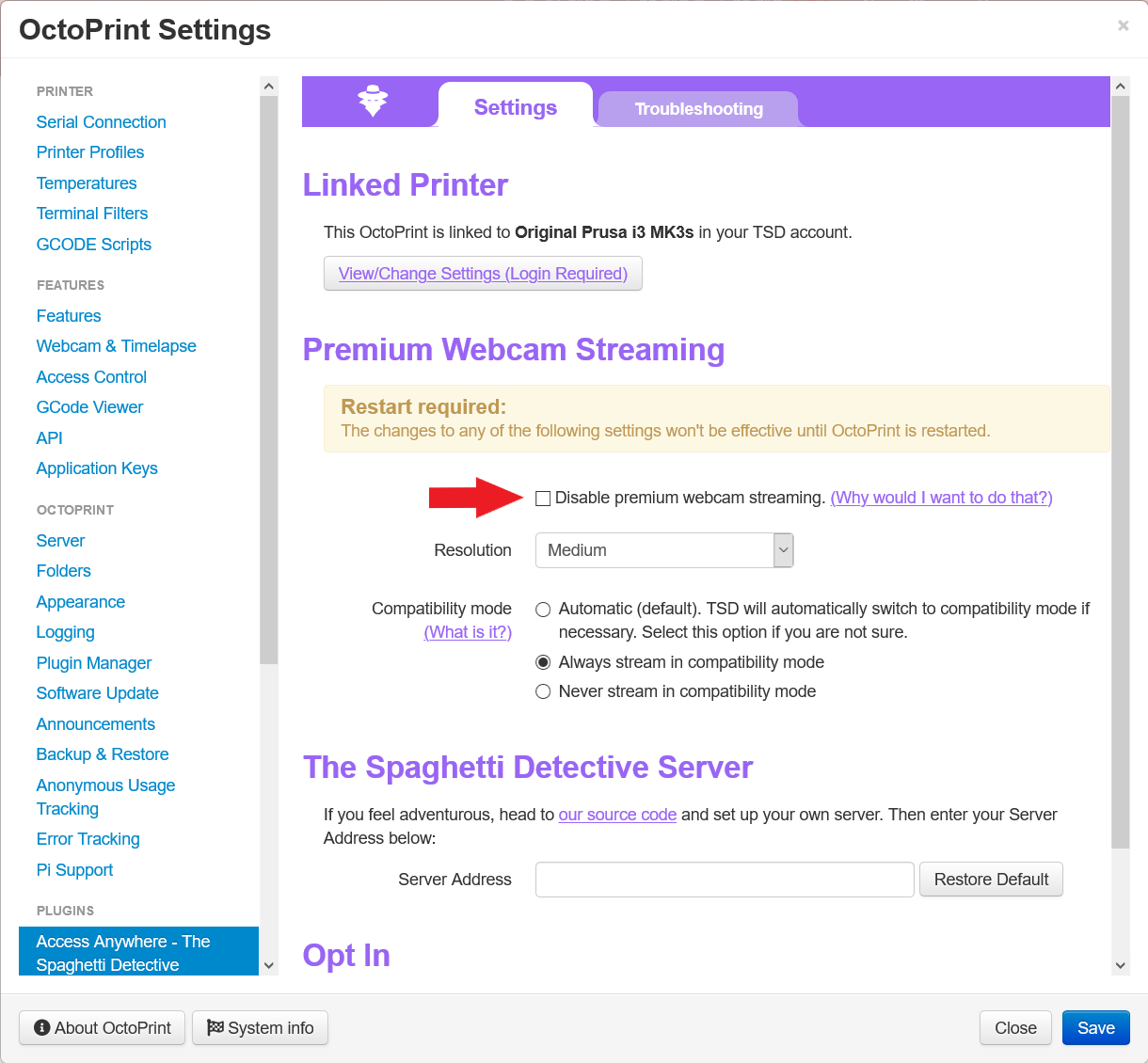 7. You have tried "always stream in compatibility mode" and it didn't work

In very rare situations, premium webcam streaming doesn't work for some mysterious reasons. In these cases, forcing "compatibility mode" may help. To do so:
Go to "OctoPrint Settings" -> "Access Anywhere - The Spaghetti Detective" -> "Settings".
In "Compatibility mode", select "Always stream in compatibility mode".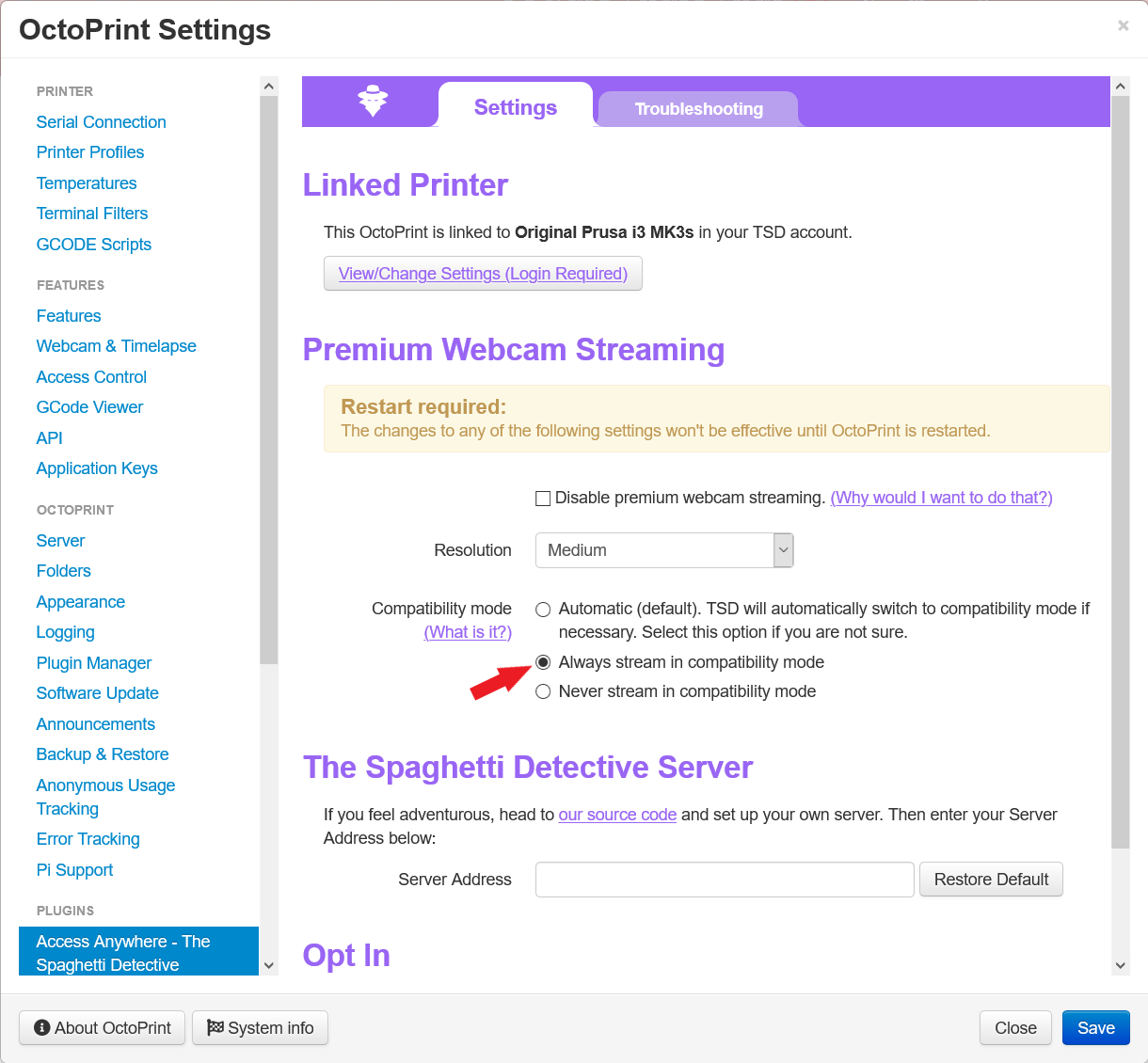 8. When everything fails...

If none of the situations above applies to you and you are still not getting premium video streaming, please email us. If you have the Pro plan we confirm that the premium webcam streaming doesn't work for you, you are not completely out of luck - we will give you 300 Detective Hours each month to compensate for the situation.