Set up The Spaghetti Detective in 56 seconds (in mobile app)
Note: Follow this guide if you plan to complete the set up process in The Spaghetti Detective iOS or Android app. If you'd like to use our web app in a web browser, refer to this guide instead.
Hardware requirements.

Before you start, make sure:
OctoPrint is installed and set up correctly. The easiest way to set up OctoPrint is to get a Raspberry Pi and follow this guide.
A webcam is set up for your printer and connected to OctoPrint. Joe Mike Terranella has an excellent video for it.
There is sufficient lighting to illuminate the printing area of your printer. If your printer is in a lighted room, you are probably fine. If you'll print with light off, you will need to make sure the printing area is illuminated when your printer is printing. A LED strip or small LED lamp will do the trick.
Access Anywhere - The Spaghetti Detective plugin in OctoPrint.
Step 1: Install
Go to your OctoPrint page. Open OctoPrint settings page by clicking the wrench icon. On the settings page, click "Plugin Manager", then "Get More...".
Type "The Spaghetti Detective" in the box, you will see "Access Anywhere - The Spaghetti Detective" plugin. Click "Install". OctoPrint will ask you to restart after the plugin is successfully installed.
After OctoPrint is restarted, you will see a wizard page. Click on "Setup Plugin".
On the following page, click on "Continue with Mobile App".
Download the TSD app from the Apple App Store or Google Play Store. Click "CONTINUE" to go to the "Verification Code" page and proceed to the next step.
Step 2: Sign up for a The Spaghetti Detective account.
Open the mobile app you downloaded in the previous step and click through the first time tour below and then tap "Let's Go!".
Assuming you already understand what hardwares are required to use The Spaghetti Detective, you can simply tap "YES!" to proceed to the next page.
Tap "Sign Up/Sign In" button to proceed to the sign up/sign in page.
Sign up with your email, Google or Facebook account.
Step 3: Link OctoPrint to your The Spaghetti Detective account.
Once you have signed up, you should see a Welcome page. Click "Link OctoPrint" to go to the "Install Plugin" page.
If you already have The Spaghetti Detective plugin installed in Octoprint and have followed all the steps described in Step 1, select "Yes, plugin is installed" followed by "I am ready now".
On the "Enter Code" page, you should see a 6-digit Verification Code.
Now switch back to the browser tab where OctoPrint is open and enter the 6-digit code in the empty field (shown below). Once verified, you will be automatically redirected on both Octoprint and in the mobile app to complete setup.
Optionally, you can now give your printer a name. If you skip this step, your printer will have the default name My Awesome Cloud Printer.
Now return to the mobile app. You can directly click "Go Check Out Printer Feed!" to leave settings in their default values and go to the mobile app's main page. Otherwise, you can also:

Select "Notification Settings" to adjust how you'd like The Spaghetti Detective to send push notifications to your phone.
Select Printer Settings" to adjust settings from their default values.
On The Spaghetti Detective's "Printers" page, you can view all linked printers (including the one you just linked), the real time webcam feed, as well as the gauge that indicates how likely your print is experiencing a problem.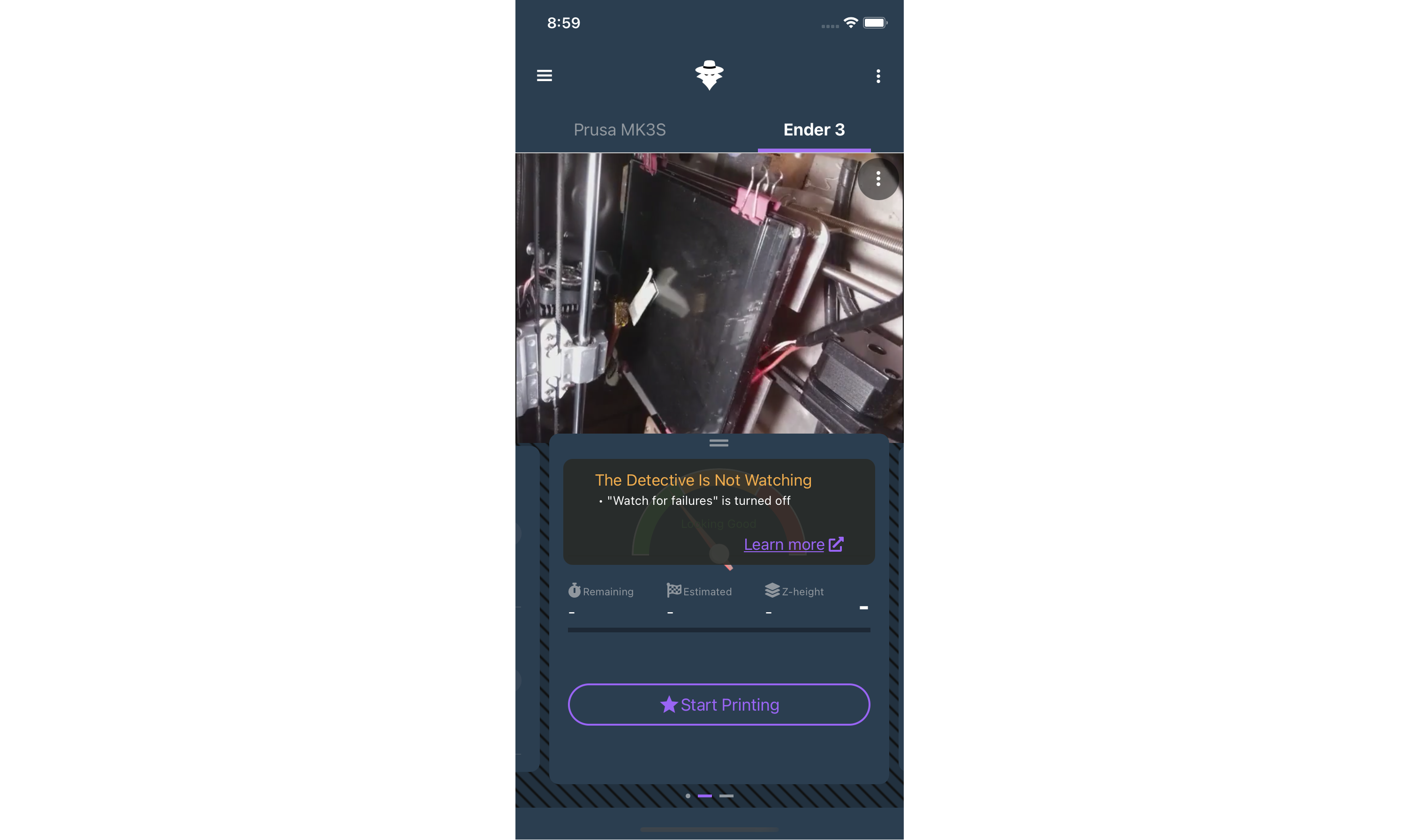 Step 4: There is no step 4. It is this simple.

You are done! Hope it didn't take more than 56 seconds. :)

The Detective will now watch your prints and send you alerts when things go awry. Start printing and enjoying the peace of the mind.
What's next?
Adjust push notification settings (optional)
This menu can also be accessed by tapping "☰" at the top-left corner of the app, then "Settings" -> "Notifications".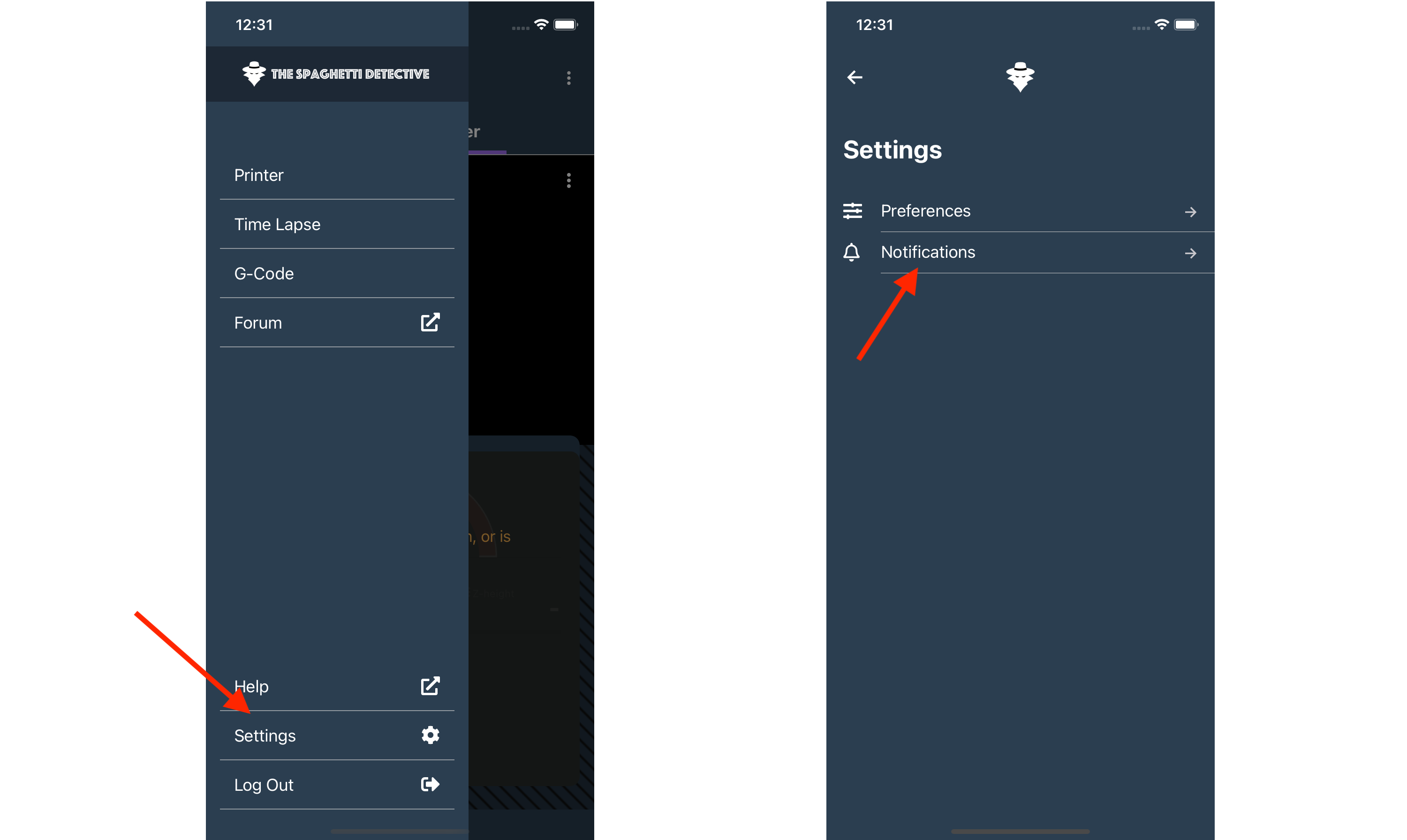 You can fine-tune all kinds of events about your printer that you want to be pushed to your phone.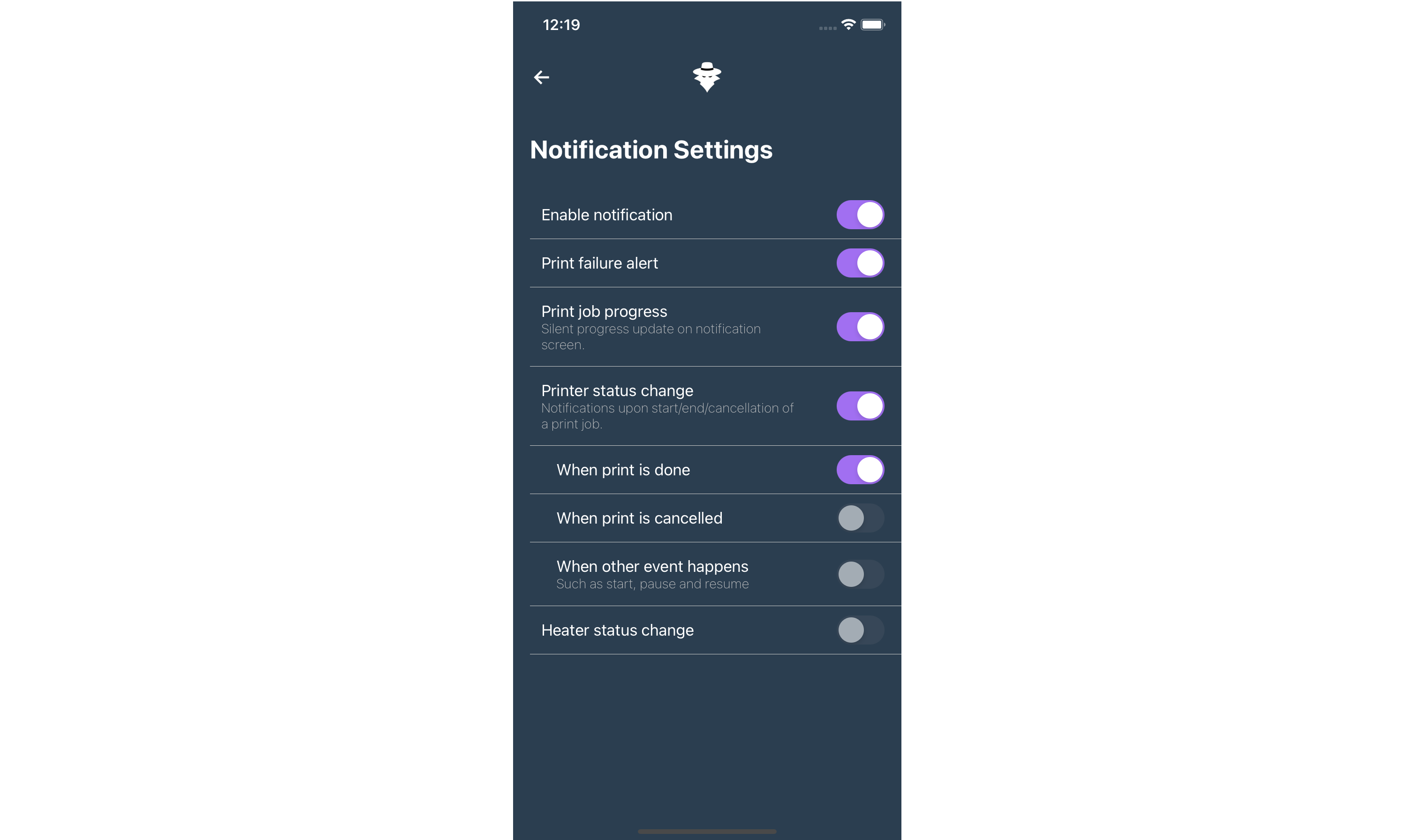 Dive deep

Ideally once you have set up The Spaghetti Detective, you can just forget about its existence until it alerts you via email or text for possible print failures. However, since The Spaghetti Detective is still in early stage, it may send you some false alarms. If you want to know more what to expect next, dive deep.